Spring is here!

Our flowers, fruit trees, vegetables and bushes have arrived - Imaginative ideas for Father's Day are here - stop in!

Drop by Monday-Saturday to pick up all of your lawncare and garden prep needs!

Mention that you saw it on our website.

Regular Specials are listed on our sign - Don't miss them!
Hardware
Gateway Farm & Pet is a propane fill station, and if you need a tank, we sell them too. We make keys and hydraulic hoses. We also stock a large selection of hardware, including electrical, plumbing, automotive, as well as lawn & garden, and pest control products. Some of the items we stock are:
Hardware
Flash lights
Rope & chain by the foot
Tarps
Extension cords
Light bulbs
Batteries
Smoke detectors
Fire extinguishers
Rustoleum spray paint
Stanley latches, hinges, etc.
Lawn & Garden
Garden hoses
Hose srayers
Tank sprayers
Soil testers
Loppers & pruners
Sprinklers
Shovels, rakes, and much more
Chemicals & Fertilizers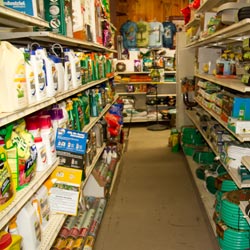 Ortho
Round up
Miracle grow
Bayer
Bonide
Whitney farms
Espoma
Scotts
Greenview 4-Step
Soils, mulch, stone & sand
Chain Saw Supplies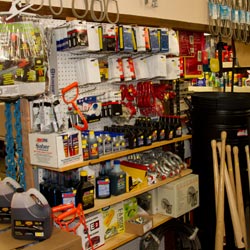 Chains & Files
Bars
2-cycle oil
Bar & chain oil
Log tongs
Flagger's tape
Log jacks
Peavies & Cant hooks
Shackles & Cable slides
Choker hooks & chains
Sledge hammers, Mauls & Wedges
Axes & Hatchets
Automotive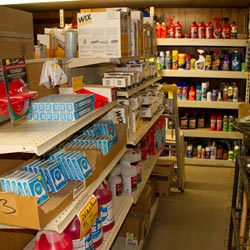 Windshield wipers
Gas cans
Motor oil: Amalie, Wolf's Head, Mobile 1, Amsoil
Deisel 911 treatment
Wix oil & air filters
Antifreeze, Windshield washer fluid
Power steering fluid
Engine cleaner, W-40
Pb blaster
Interstate batteries
Rodent Control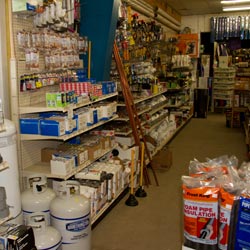 Traps - mechanical & electronic
Bait pellets & bars
Repellents
Havahart live animal traps
Plumbing
PVC fittings
Copper fittings
Brass fittings
Quick connect fittings
Toilet repair supplies
Electrical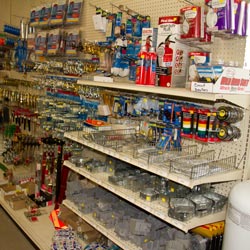 Romex wire
Outlets
Switches
Outlet boxes
Circuit breakers
Wire nuts
Romex connectors